My Daughter's Dream
Posted: September 24, 2014
Filed under:
MONDAY RAMBLE
| Tags: Daughter's dream, Michael Sam, monday, ramble, sha stimuli, Stimuli, Young thug
4 Comments

A few years ago I wrote about the "pee dream" and described it as a frightening experience that creeps in during adulthood with the aim to ruin reputations. It's the unconscious, nocturnal vision we have where we see ourselves in the bathroom and we're ready to release urine and if we don't wake up in time then we revert back to our adolescent days where bed-wetting was right up there with tying our shoes as the top obstacles in life.
But anyway, I bring this topic up because the dreams involving urination are becoming more and more frequent and I am not sure if I'm going to be able to keep on escaping a saturated mattress every night as I get up there in age. As for now, I am thankful that I have my wits and bladder in control.
That brings me to a thought about a dream I had the other night.
It was an interesting dream that had to fall in between the one I had about peeing in a fountain and one where I was at a urinal at a movie theater.
In the dream I was at home, but it wasn't the home I live in now. It was a house…and it was pretty big… and it was a Saturday…and I was making pancakes. And my daughter walked in the kitchen. She was an 8-year-old daughter. At least I think she was 8. She looked around 8. Now that I think of it, she told me she was 8. She was asking when she could have her own phone so she could Snapchat with her friends. And I pretended I knew what Snapchat was and then I told her she could have one that only had a talk and text plan.
And she asked me how she was supposed to watch videos like her friends did. It opened up a conversation about what videos she had seen and what she thought about them. And since this was my first time being a parent and all of a sudden I had an 8-year-old, I thought to myself, maybe this is my stepdaughter. But she kind of looked like me, and the way she spoke to me, she seemed like flesh and blood.
So when she asked me what an Anaconda was and I started to explain that it was a snake, I hesitated and asked why. She said because she didn't understand Nicki Minaj's song but she liked it a lot. She told me Nicki was her favorite rapper.
Then I told her that Nicki's former high school wouldn't even let her return to speak to the students. And she asked why. And I said because they don't believe she's a proper role model.
She told me she was a great model because she's so beautiful. And I stood there speechless for a few moments.  Then I asked if she had any other questions about things her friends spoke about.
She wanted to know if shmoney was just a dance or if it was something she could use to buy candy. She asked what an AR was and what happens when you catch a bullet hole. Her face looked so puzzled when she wanted to know what it meant to catch a body and if it had anything to do with the guys that caught bodies at the circus.


She asked me if there was a twerk team in high school and if she could join when she got old enough. She inquired about sloppy toppy and if it would make a boy like her. She wanted to know if our family could be on Love & hip-hop…what did she have to do to get a donkey…how come hoes were not loyal…is it ok for girls to like girls…are thots good or bad…what's wrong with being called nigga?
Her face looked baffled, her mind seemed to be spinning, she was confused about the world and I was perplexed about what to tell her. I watched the "Anaconda" video and I listened to the words and I cringed because I know there was a time in my life when these images and lyrics would feel normal to me. I would have analyzed the song for its hit record value; I would have judged the beat, whether she killed the verses or not and then I would have picked apart the flow and decided if this was a smash or something I would share with others.
But I would ignore the content if this was a decade ago. I would not care about Nicki's references to sex with different men. The same way I would not focus on Bobby Shmurda's admission to selling crack since he was a minor. I would have thought the song was so infectious that any mention of a slug, a burner, or a shot that popped would not affect me. I had rapped about these things myself.
All of this passed through my head as I stared at this cute little princess. And I couldn't figure out what words to say in that moment that would allow me to be a parent that guides, teaches and nurtures while still being an open revolving door for any questions about her life for at least the next decade. Words were starting to come to me; I got so excited thinking that I was going to be a part of the solution for once. I wasn't just going to be a bystander wondering how a female turned out to be insecure and lost. This was my opportunity to change the world with one conversation. It was my opportunity to address slang and profanity with tact that would stick with her for years to come. Then I woke up.
And I laid there for a few minutes.
I do not have a daughter to share my views with. I spent most of my twenties focusing on spreading messages to the masses rather than starting a family. And now I hardly agree with 78% of those messages. I hate complaining about the world we are in. I do not like bringing up negativity without adding a positive solution. It bothers me when I salute the past as if it was a greater time than the present but when the future arrives I will still look at today's present as if it was superior. Of course music and television have become infected with greed and just maybe there is a plan to keep people of color spewing ignorance instead of preaching empowerment.
There could be some underlying agenda to push artists that walk the line of feminism like Young Thug and athletes that exited the closet like Michael Sam.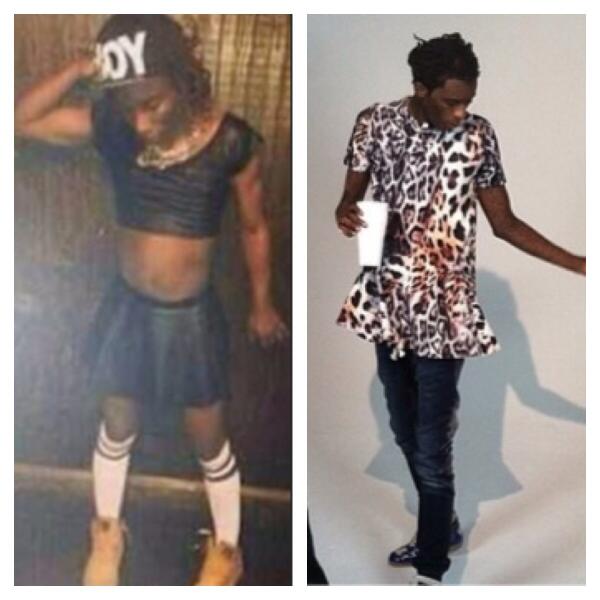 But most of us will insert the Kermit the Frog meme and pretend none of this is our business until it affects our home. We may never act until our sons and daughters come home with questions that are not so easy to respond to. Or maybe they won't ask at all because they will figure it out on their own. And instead of a thought-provoking dream that we can learn from, it will be a real life nightmare and we may never wake up.
---